Duo Two-Factor Authentication
Duo Two-Factor Authentication
Duo Two-Factor Authentication
Two-factor authentication adds a second layer of security to your Rowan University Network account.
Strong passwords are essential, but they aren't enough to protect your account. The second layer of security provided by two-factor authentication prevents unauthorized users from accessing your account, even if they know your password.   
Rowan University uses a product called Duo for two-factor authentication. Any active employee or student can enroll in Duo. Duo will be mandatory for everyone in coming months.
Once you enroll in Duo, after logging in with your Rowan Network username and password, you will need to verify your identity by using a mobile app, receiving a text message or phone call, or providing a passcode from a hardware token.

Devices can be enrolled and managed at duo.rowan.edu.  Detailed instructions can be found below.
How to Enroll and Use Duo
1. Choose a Device to Enroll
We recommend using your smartphone with the Duo app. Most people find using the app on their smartphone — either to receive a "push" notification or to generate a passcode — to be the most convenient way to use Duo. There are also other options for using Duo. 

2. Enroll a Primary and Backup Device
We strongly encourage all Duo users to enroll using multiple methods in case your primary method becomes unavailable, such as a broken or lost smartphone. We suggest people use the app on their smartphone, the most secure method, as their primary method and enroll a landline, hardware token or Google Voice number as a backup.
Note: A screen lock must be enabled on your smartphone before you can use the Duo Mobile app.
More Information

3. Log in to Protected Applications and Websites Using Duo
Once you have enrolled a device in Duo Two-Factor Authentication, you will be presented with the Duo prompt when logging in to certain protected Rowan applications and websites.
Enter your username and password as usual
Use your registered Duo device to verify your identity when prompted
Be securely logged in
Don't forget that you can check the "Remember me for 14 days" box in the Duo login prompt on a trusted computer to bypass Duo in that browser for 14 days.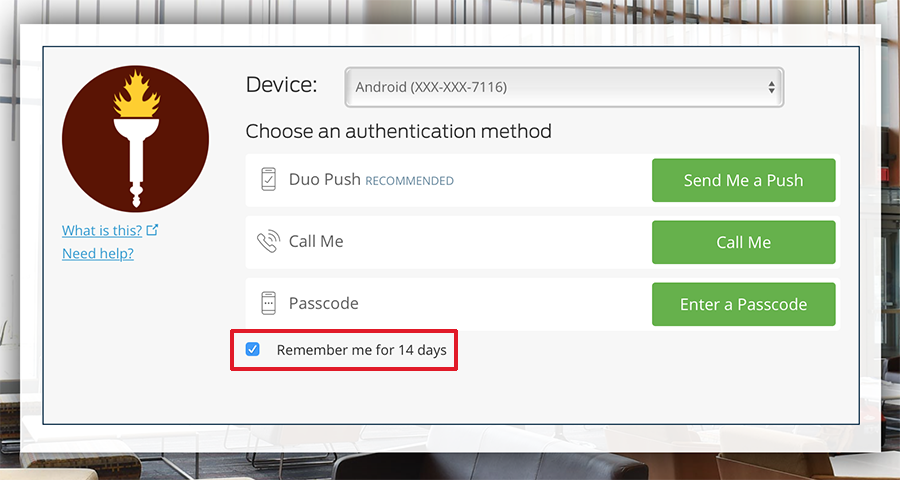 Note:  EMR users accessing Citrix through applications.rowan.edu will only be able to remember their login for 1 day.
More Information


4. Manage Your Duo Devices
Once enrolled in Duo, you can remove phone numbers and tokens you no longer use or devices that have been lost, broken or stolen on the Duo Portal. You can also update an enrolled smartphone if you replace it with a new one but keep the same phone number.
More Information

Frequently Asked Questions